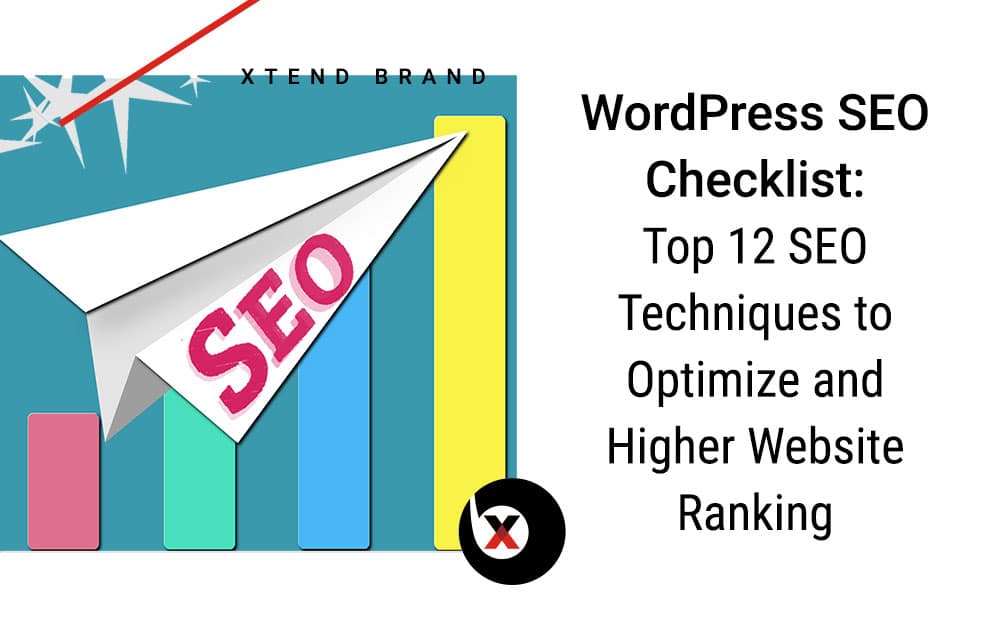 WordPress SEO Checklist: Top 12 SEO Techniques to Optimize and Higher Website Ranking
One of the factors that people have chosen WordPress as their CMS website may be that they read that it's SEO-friendly out of the box. In fact, they just need to check out WordPress's own list of 'powerful features' on their homepage and this WordPress SEO Checklist to see that they're proud that the platform is SEO-friendly. WordPress has continued to evolve and it is one of the best CMS offering a great user experience. It owns roughly 30 percent of the total websites. And the most incredible score delivered in the web development industry is expected.
However, that doesn't mean that really just launching a WordPress site is enough to have been at the top of search engine results. You still need to understand the WordPress SEO Checklist and the right SEO practices to use and how to execute them, but the best part is that WordPress makes this easy to do and makes it easier for learners to boost their traffic from Google. As such, you're ready to maximize the quality and effectiveness of your potent WordPress website. Sure, you've had to add all the attributes to it and make it worth using as an optimal service solution.
Now, you will find our top-notch WordPress SEO Checklist with practices to help you optimize your website and enjoy SEO success. We know that at the time of the launch of the website, nobody kept insisting on it. But, in terms of direction, this is not the stage to be neglected when your business completely depends on your website.
Let's take a quick look at the impactful WordPress SEO Checklist:
1. Install WordPress and Choose an Intelligent Domain
You have to make sure that you should choose an intelligent domain and the right TLD. And hosting your site with a reliable provider — site speed, uptime, and security are all key grounds to think carefully about who you will be using as your host. Site speed has a significant impact on the SEO performance of your WordPress site, and poor uptime and security flaws can lead to site quality issues. Install WP, here is a guide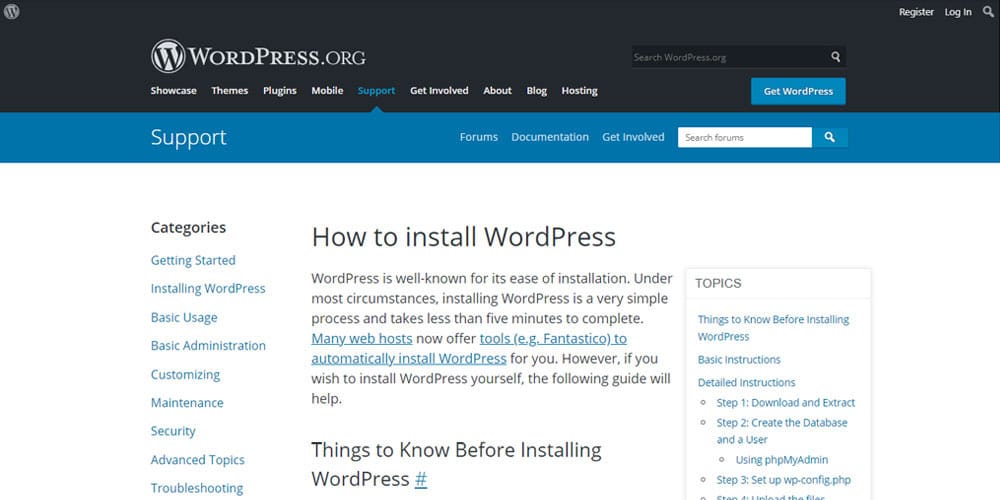 2. Create a robots.txt file
The robots.txt file informs the search engines which pages or files the crawler can or cannot demand from your site. This is mainly always had to avoid overloading your site with requests; it is not a technique for keeping a web page out of Google. You must use no-index or login-protect your page to maintain a web page out of Google. Create a file and name it "robots.txt" and put it in the root directory of WP installation. You have to be careful with the use of robots.txt because using it the wrong way can harm your blog, so it is better to read it first.
3. Create a .htaccess file
The .htaccess is a distributed configuration file, and how Apache handles configuration changes on a per-directory basis. WordPress uses this file to deceive how Apache serves files in its root directory and subfolders. Most particularly, WP modifies this file so that it would handle a lot with permalinks. Create a file & name it ".htaccess"and put it in the root directory of WordPress installation. WordPress will also use .htaccess to create speaking URLs, insert code you get creating permalinks in WP properties. To use .htaccess, your apache webserver has to support mod_rewrite. Here is the link to learn more about it.
4. URL Structure for Posts
WordPress allows you a range of different choices on how URLs are structured, so you'll need to make sure that you should choose the most SEO-friendly option. WordPress uses URLs like this by default: https:/domain.com/? It's p=123. These URLs do not search engine-friendly, so there is simply no way of even trying to define what the website is about from the URL alone. Fortunately, you can select a custom URL structure at Settings > Permalinks For most pages, you want to use 'Post Name' for your permalinks.
You should optimize your URL structure by using the properties of WP (permalinks) and should not include the category in your post URLs. Perhaps if you change the category of a post later, WordPress will not create a new URL and do not include too many folders.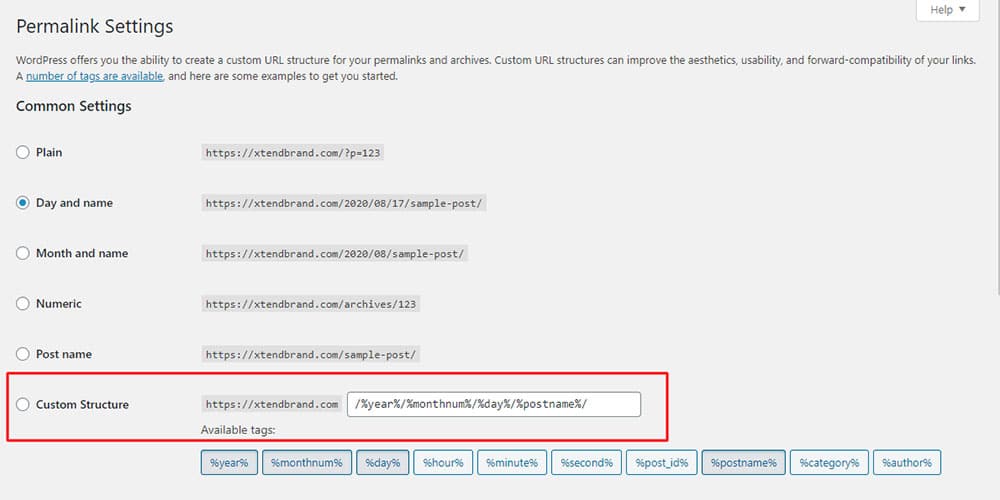 5. Choose SEO Optimized Theme
Once you initially install WordPress, you'll almost certainly see the default 'Twenty Twenty' theme of the website. Nonetheless, chances are this isn't the one you're going to want to use for your website. There are literally thousands of free themes available at the moment from the dashboard and many more premium themes that you'll have to choose carefully, otherwise, you might end up using one that isn't SEO friendly.
Download some themes you like, but also inspect the source code of the theme: be sure that the source code is well structured. Although several themes claim to be SEO-friendly, it is not rare for themes to come bundled with scripts and plugins that you would not need, and this will slow down the output of your site. Before you install a theme, run your demo through Google's web dev tool to get insights into future performance and SEO concerns.
7. Must-Have SEO Plugins
You will need to install these must-have SEO plugins before you start optimizing your website. Fortunately, there are a few key choices that are widely recommended, all of which are free to install:
Yoast SEO
All in One SEO Pack
Cachify
Google Analytics
Really simple Facebook and Twitter Share buttons
Please take note that a plugin will not optimize your website for you; it will make it easier for you to do so and to establish best practices.
8. Setting up Google Analytics & Google Search Console for User Tracking (Essential part of WordPress SEO Checklist)
Google Analytics easily provides detailed information about the website and its web traffic. This also offers valuable visibility into the origins of traffic. This means that you can focus more on regions and try to cover other regions for SEO valuable results. On the other hand, the Google Search Console works on analyzing the visibility and performance aspects of the website.
9. Adding a Sitemap
You just have to need to check your site with the Google Search Console. XML Sitemaps are the structure that allows search engines to understand the context and details of the website. By creating an XML Sitemap on your website, you would be able to notify all search engines, including Google, that your website has been updated. The activated Yoast SEO plugin has come up with an XML Sitemap module.
Once you've checked your site, you will need to submit your XML sitemap to the 'Sitemaps' tab. (Yoast will generate an XML sitemap by default — check domain.com/sitemap.xml). You may then apply the location of your sitemap (sitemap.xml).
10. Adjust Sidebar Content
You will not have to put the very same sidebar elements on all sorts of pages, e.g. "New posts" is not necessary at home. Not linking to all categories from all pages, you can create clusters of pages with the same themes, and you can speed up the indexing of these posts by linking to x new posts from many pages. Although not linking to all archive sites, after 2 years of blogging, you have 24 links to monthly archives. So, you can make more insightful use of the power of each post. The most recent reviews on your posts make sure you have feedback on your posts.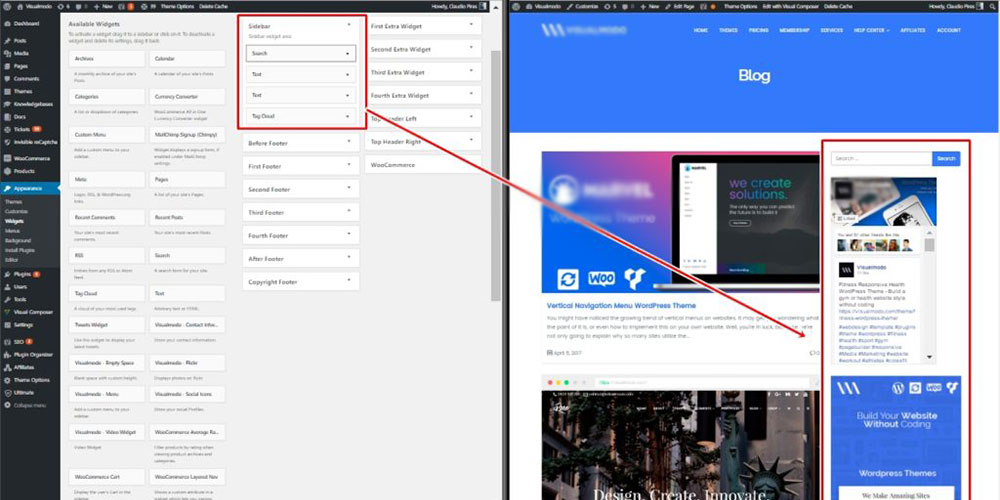 11. Do Image Optimization
Images that describe the intent, along with creative content, are more likely to top results. Everybody wants to do this. In order to do this, it is important that you optimize all your images with settings and link unique image URLs to them. It is the best SEO technique that webmasters often apply to make their campaigns successful.
You need to give your images unique naming conventions to apply this technique. It would add an advantage if your images had the content of the correct page. Users can get links to these images by inserting the best-searched keywords for them. When your optimized image appears in the top 10 of the WordPress SEO Checklist, you should receive even more attention from your company offerings.
12. Carry out Keyword Research
(Essential part of WordPress SEO Checklist)
Without keyword research, you do not know which search criteria you can use to optimize the content of the website. In reality, keyword research should come at the beginning of every SEO project and it is used to plan the content of the website and optimize your website. You can use the Keyword Analysis tool to find keywords that you can use and optimize.
Constructing meta tags for a page or website is considered crucial to the execution of intelligent SEO. These tags are a great way for a webmaster to provide the most processed information on their websites. Sometimes, tags prove useful to even provide information to all kinds of webmasters. It works to preserve the integrity of each page so that all search engines can appropriately index the websites.
Final thoughts
All the above 12 practices seem overwhelming to you, but they yield excellent results in terms of the high ranking of the website. You must have heard of most of the techniques, so you should definitely have introduced them. So, you don't need to put the test in front of you. In the follow-up to this WordPress SEO Checklist, while setting up and developing a WordPress project, you can make your website attain massive success and reach out to visitors. By following the above steps, you're putting yourself in a great position to outrank your competitors.
About the Author: Xtend Brand's Editorial Team is dedicated to helping you extend your leads, and revenue, reduce your marketing costs and distinguish your brand by sharing our collective expertise. The team is keeping a watchful eye on the trends in digital marketing, providing you top insights with expert feedback. Need to see something you don't see on our blog yet? Shoot us a message and our marketing team will be going to get to work.